Melissa Netzband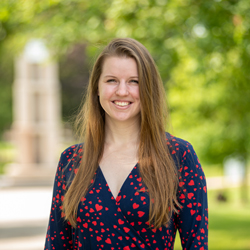 Liaison to School of Business and School of Natural and Social Sciences
585-594-6893
netzband_melissa@roberts.edu
Google Hangouts:
netzband_melissa@roberts.edu
Education:
Mansfield University of Pennsylvania - B.A. Music (Vocal), B.A. History
State University of New York at Buffalo - MLIS
Library Research Interests:
Digital, Information, and Data Literacy as core competencies of Citizenship
Library Programming and Marketing
Other Research Interests:
World War Two
Military History
The normalization of the Leitmotif
Biographical Notes:
When I am not at Roberts, I can be found playing with my Australian Shepherd, Hugh Dingo, singing with my women's choir, Concentus, passionately yelling at my television during a football or hockey game, or watching/reading a beloved story. Being a librarian, many would assume I am the quiet type, while the opposite is generally the case.
Typical Work Day:
I could be doing anything from filming and editing youtube videos to assist the Roberts community with their research, teaching a class, or working one-on-one with students and faculty on research. If there is food or therapy dogs in the building you will likely find a very happy librarian there.
Favorite Part of My Job:
Working with students on research that they are passionate about. There is nothing better.
Favorite Book:
Books of the Bible: Luke and Colossians
Others: Harry Potter, anything by Emily Ley, Everything is Figuroutable by Marie Forleo
Hobbies:
Singing, Hiking, Baking/Cooking, Traveling to New Places, Reading.