Melissa Netzband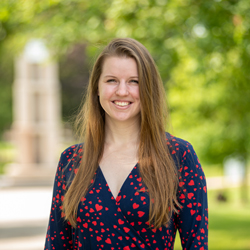 Library Liaison to the Roberts Wesleyan College Academic Community
585-594-6893
netzband_melissa@roberts.edu
Google Hangouts:
netzband_melissa@roberts.edu
Education:
Mansfield University of Pennsylvania - B.A. Music (Vocal), B.A. History
State University of New York at Buffalo - MLIS
Library Research Interests:
Core literacy assumptions we make of our students, and how to fill those gaps so our students can succeed.
The connection between information literacy education and civics education.
Other Research Interests:
Digital, Data, and Technology Literacy
Military History
The normalization of the Leitmotif
Biographical Notes:
When I am not at Roberts, I can be found playing with my Australian Shepherd, Hugh Dingo, singing at church, passionately yelling at my television during a football or hockey game, or watching/reading a beloved story. Being a librarian, many would assume I am the quiet type, while the opposite is generally the case.
Typical Work Day:
I could be doing anything from filming and editing youtube videos to assist the Roberts community with their research, teaching a class, or working one-on-one with students and faculty on research. If there is food or therapy dogs in the building you will likely find a very happy librarian there.
Favorite Part of My Job:
Working with students on research that they are passionate about. There is nothing better.
Favorite Book:
Books of the Bible: Luke and Colossians
Others: Harry Potter Series by J.K. Rowling
anything by Emily Ley
Leadership: In Turbulent Times by Doris Kearns Goodwin
Call Us What We Carry: Poems by Amanda Gorman
Hobbies:
Singing, Hiking, Baking/Cooking, Traveling to New Places, Reading.