News
August 29, 2016
Board Games Now Available for Check-Out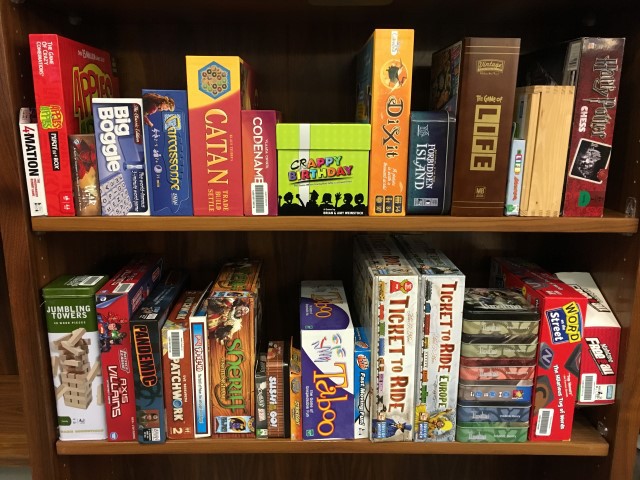 The Library is pleased to share that our board game collection is now available for public use! If you need a break from homework or studying, stop by the Resource Desk to check out a game for use in the Library. Student organizations may make arrangements with Kellie Barbato, Outreach Librarian, to use the games outside the Library for events. Kellie can be reached at barbato_kellie@roberts.edu or x6044.
Here is the current list of available board games:
4mation
Ages of War
Antidote
Apples to Apples
Axis of Villains
Bang!
Big Boggle
Brynk
The Captain is Dead
Carcassonne
Catan
Chess: Harry Potter Edition
Clue: Star Wars Edition
Codenames
Crappy Birthday
Dark Moon
DiXit
Dungeons & Dragons: Wrath of Ashardalon
Family Feud Strikeout
Flag Dash
Forbidden Island
The Game of Life
The Game of Things
Hanabi
Hive Carbon
Jumbling Towers
Life Adventures
Onitama
Pandemic
Patchwork
Po-Ke-No
Potion Explosion
Raptor
Robo Rally
Santorini
Scrabble Slam
Sheriff of Nottingham
Street Kings
Sushi Go!
Taboo
Take the Train
Ticket to Ride
Ticket to Ride: Europe
Timeline: American History
Timeline: Americana
Timeline: Historical Events
Timeline: Inventions
Timeline: Music & Cinema
Timeline: Science & Discoveries
Word on the Street
Yahtzee Free for All