News
December 12, 2016
Destress for Success Week: 12/7 - 12/13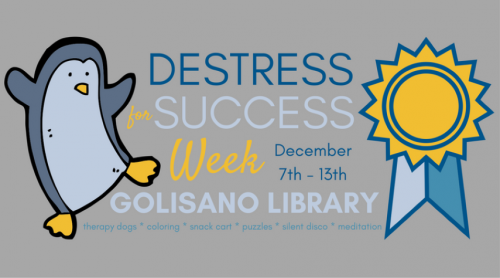 In order to help students be more successful in their final papers, projects and exams, the Library is holding Destress for Success Week from Wednesday, 12/7 until Tuesday, 12/13.
Destress for Success Week activities:
CANCELLED - Wednesday 12/7, 6-7pm: Therapy Dogs - come visit with adorable dogs from Lollypop Farm and pet the stress away!
Thursday 12/8, 10pm: Snack Cart – a librarian will be roaming the library with a cart filled with snacks to fuel your studying and paper-writing!
Friday 12/9, 3pm (Conference Room): Guided Meditation - join us for a time of focus using a recorded meditation on loving kindness.
Saturday 12/10, all day: Coloring / Puzzles - check out the tables in the back of the first floor and work on a puzzle or some coloring pages!
Sunday 12/11. 9pm: Silent Disco - bring your headphones and mobile device, pull up Justin Timberlake's "Can't Stop the Feeling" on YouTube and dance it out in the café!
Monday 12/12, 6-7pm: Therapy Dogs
Tuesday 12/13, 8pm: Snack Cart