News
January 16, 2017
Roberts Wesleyan College First in NY to Launch Next-Generation Library System
Roberts Wesleyan College is the first college in New York state to migrate to Alma/Primo, a next-generation library system, streamlining resources, accessibility, course materials and more for students and faculty. The college launched Alma, an Ex Libris library service platform, and Primo, a new discovery user interface, in November to prepare for the start of the spring semester which began on Jan. 9.
"We believe it is essential to meet the growing needs of students and faculty in an evolving research environment with multiple learning platforms," said Matthew Ballard, Interim Director of Library Services. "Our last major implementation project occurred 20 years ago when print was the predominant format. With the Alma/Primo implementation comes a single interface capable of managing multiple formats in an increasingly digital world."
The cloud-based system has improved accessibility and is fully mobile. Students can access the system from any device that has an internet connection, making research possible from their dorm room, classroom, home office, etc. It also is a single source for users to find resources, request materials and recommend purchases. Alma checks for all options — print, electronic and digital — and shares with the user the best options based on the user's needs.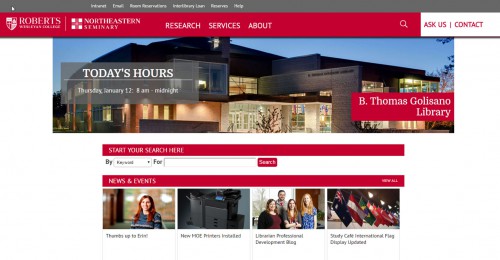 Overall, the system provides better capabilities for students and faculty at Roberts Wesleyan and Northeastern Seminary, including:
Streamlined access to resources for students. With Primo, students have the ability to research and discover information in a Google-style environment.
An efficient purchasing request system for professors that ensures timely acquisition of course materials.
The ability to expand course assignments for faculty due to increased student accessibility to library collections (print/electronic/open source).
The reduction of purchasing duplication, ensuring faculty dollars go further and are reallocated to new and significant collections, promoting faculty scholarship on campus.
With this system, users will also gain exposure to open access resources and additional collections, as the Golisano Library has shifted more and more to digital resources over time. As a result, a value-add to the college will be reduced spending on electronic journals and databases.
From a library perspective, Alma has reporting that allows for efficient tracking of purchases and collection development, providing an accurate picture of library operations.
"The new system will assist in reducing the number of duplicated subscriptions and purchases, which will ensure the best use of campus funds," said Angela Merrill, project manager and Library Systems Specialist. Alma also can be linked with other campus systems (PowerCampus and Management Reporter), allowing for timely updating of student accounts and accurate/efficient payment of library invoices.
Roberts is excited to be the first mover for this next-generation library service platform in the state.
"We know that other Rochester-area colleges are actively looking into this system, too," said Dr. David Basinger, Chief Academic Officer at Roberts Wesleyan College. "We are delighted that our students will be able to benefit from the improved features and capabilities in the Spring 2017 semester."