News
May 10, 2017
Library Student Workers Win Coveted Campus Awards
The Library Team wishes to congratulate student workers Hannah Sytsema and Esther Ying, both of whom received coveted campus awards in the past few weeks.
Hannah Sytsema (Communication '18) was awarded a Staff Association Scholarship at a special Chapel Awards Ceremony last month. Each year, the Staff Association Scholarship Committee solicits nominations for two $2,500 scholarships, which are made possible through the generous giving of Roberts Wesleyan College staff members. In order to qualify, students must:
- be currently enrolled as a Sophomore or Junior carrying a full academic load
- maintain a 2.5 GPA or better
- be involved in activities external to Roberts (i.e., volunteer or charitable involvement, leadership programs, etc.)
- be involved internally at Roberts (i.e., student organizations, athletic teams, campus service, etc.)
- exhibit initiative, good character, and a genuine interest in the College.
Congratulations, Hannah!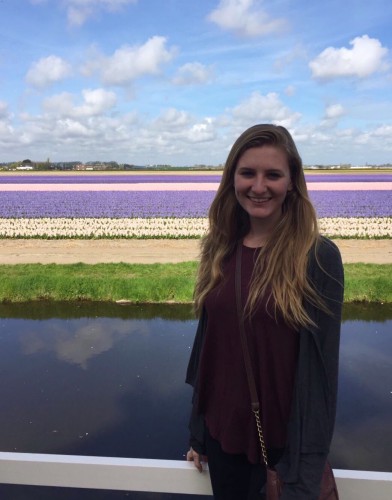 Esther Ying (Music '18) was named the Music Department's 2017-2018 Presser Scholar. The Theodore Presser Scholarship, pending the approval of the Presser Foundation, is awarded to an outstanding music student at the end of his or her junior year. The music faculty, using the following criteria, selects a "Presser Scholar": GPA, achievement in musical performance, and contributions to the department. As stipulated by Theodore Presser's will, at least one-third of the courses taken must be outside of music. The recipient presents a full recital, usually during the second semester of the senior year. Esther's Presser Recital is scheduled for Thursday, April 5th, 2018 at 7:30 PM in Shewan Recital Hall in the Cultural Life Center.
Congratulations, Esther! (pictured below with David Chin, music department faculty member)