News
March 2, 2020
Wireless Printing!
Print from your laptop to the library from anywhere on campus!
Web Printing only works while on the campus network, and jobs can only be released from the three copiers in the Golisano Library, two (2) adjacent the front Resource Desk and one (1) in the 24-Hr Lab. Just remember to bring your ID card to release the print job from the printer when you arrive to pick up your material. Materials are only held in the printer queue for one hour.
To begin, navigate to the IntraNet https://rwc.roberts.edu/ and click/press on WEB PRINT.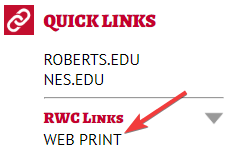 For more information, visit the library Web Printing page.